I realize most comments about the newest Search Engine Wikia aren't exactly great, but to be honest: I like it… I really do !!!

But first, what is this Wikia everybody is talking about ? Wikia is the new, long awaited Search Engine launched by Wikipedia founder Jimmy Wales. His name is often followed by the epithet "Google's worst nightmare", although I don't really see why ;-)
A while ago, he promised the internet (Wikipedia) community he would build a search engine that could compete with Google. And not just that, everyone would be able to contribute to the search results by adding his own content or by scoring the ranking sites. A Search Engine 2.0 as you will. And yesterday, the first Wikia alpha version was launched.
Before I tell you what I really like about it, I think I should start with why I'm disappointed in Wikia:
The Wikia SERP's are really poor…
The result pages are not good, and that's an understatement. I know the entire search world wasn't impressed with the Live Search results before the last update, but they were great compared to the ones Wikia has to offer (for now). Apparently writing a good search algorithm isn't that easy. Wikia is built around the Nutch open source web-search software. But I guess the algorithm will be improved in time and on top of that only 100 million pages are indexed (Google has almost 20 billion webpages indexed). Maybe it was a little too early to leave the Wikia bèta phase and maybe Jimmy shouldn't have started the buzz and the hype that soon. But I'm certain the comments wouldn't have been as bad as they are now if wasn't the Wikipedia founder that started it.
And now what I like about Wikia:
1. It looks good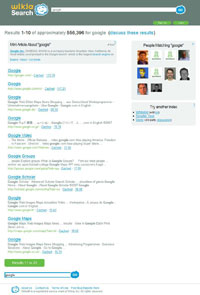 2. It's easy to use
Just what made Google successful, the ease of use.
3. There's not too much information on the SERP's
Another thing the guys at Google understand like the best. It took Live Search a while, but now their SERP's are also good. I hope the designers at Wikia aren't going to change the concept of their result pages.
4. It's a competitor for Google
Not that I have anything against Google, on the contrary, I use many of their services every day and have never been disappointed by their search results. But a little competition wouldn't harm Google. The Google internet monopoly we are heading for isn't something we want. But don't get me wrong : I think Google should continue developing new services, offering the best search results, … it's the others that will have to come up with something even better to really compete with Google. And Wikia is a first step in the good direction.
5. You can influence the SERP's

I'm sure the black hat SEO-guys are already looking for techniques to adjust the SERP's to their own personal needs (not that difficult to figure out at the moment to be honest). But just like Wikipedia, the initial abuse of users discussing and grading the results in time will become a valuable (maybe almost spam-free) feature. I know Google also tries to collect data about appreciation of the ranking sites by measuring clicks, page views, time spent on page, the Google Toolbar, Google Analytics, personalized search, … but a lot of clicks and a lot of time spent on a site doesn't really reflect appreciation. Voting on a result does. And the more people showing their likes or dislikes, the better the results will become.
6. The ranking results are preceded by a short article
This mini article is really written for your specific search. So you don't have to visit the first five results just to find a simple explanation of what you were looking for. Faster and easier searching.

7. If nobody wrote about it you can
You consider yourself a real expert in something ? Share your knowledge !
8. If a real noob wrote about it, you can change it
You know it better ? Change it !
9. You can find people that share the same interests
When you create a Wikia profile, the real social 2.0 side of Wikia is unleashed. You can add tags to your profile and when someone searches for your interests, skills, activities, music, movies, … your profile is added on the right side of the result page (where Google shows most of its sponsored links).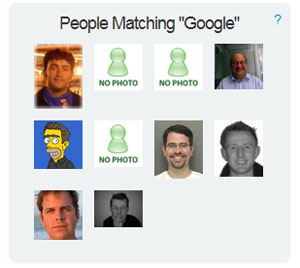 10. They admit it's not great yet
I always like it when people can admit they can, should and will do better. And that's exactly what the Wikia people do on their about us page:
We are aware that the quality of the search results is low.

11. Matt Cutts is now my friend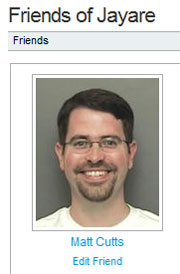 A place where Matt Cutts is your friend can't be a bad place ;-) I read on his blog he also was checking out Wikia, so I invited him as a friend and he accepted the invitation. Thanks Matt !
Conclusion:
My advice ? Don't give up on Wikia just yet. It has some promising features other search engines don't have. I admit the results are not what they should be, but they are working on it…
So point your browser to alpha.search.wikia.com and give it a go !