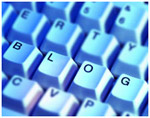 More and more companies are discovering corporate blogging as a means to communicate with (potential) customers over the internet. Basically, blogs are easy-to-manage websites that can be updated within minutes. Writing a blog post is almost as easy as writing an email. This ease-of-use makes blogging a fast and easy way to write down your ideas and share them with the online community. And on top of that, search engines like Google really like blogs. In other words, it's easy to spread your values and ideas and it's easy for people to run into them.
Those are the exact factors that make corporate blogging one of the first things any company should do when they decide to explore the marketing possibilities of the social web.
But be aware, blogging and participating in the blogosphere can be dangerous as well. The temptation to start a blog or to participate in discussions on other weblogs in another name than yours or your company's is sometimes irresistible. In the past some companies, even big ones like Sony, have lost a lot of their meticulously built online image by posing as someone else. This is why the Word Of Mouth Marketing Association (WOMMA) started promoting best practices for the social web to ensure more effective online marketing.
WOMMA compiled a code for online behavior. A building block of that ethics code, which they believe is as relevant as ever to evolving social media, is what is known as the Honesty ROI.
This includes the following:
Honesty of Relationship: You say who you're speaking for.
Honesty of Opinion: You say what you believe.
Honesty of Identity: You never obscure your identity.
This code had been implemented with great success in big companies like Microsoft. They even have come to the point where they encourage their individual employees to start a personal blog and write honestly about their work and their employer.
Now that we have outlined the benefits of corporate blogging and mentioned the dangers, only one question remains: why should a company start its own corporate blog, what are the key benefits?
Branding and building profile: corporate blogging might be the cheapest form of marketing and advertising. No other channel can guarantee you a ROI bigger than what a blog can return.
Generating business and thus revenue: a corporate blog improves your online visibility and findability. More visibility means more business means more revenue (if done well).
Revealing expertise in your market: when blogging, you give people a real insight into what your company is doing and what it is thinking. Imagine how many brochures you would need to match the value of a well written and maintained blog with a couple of hundred posts about your market.
Networking and meeting people: whether your readers are (existing or potential) customers, colleagues, competitors, students or potential employees, it doesn't matter. Fact is that your corporate blog will allow your company to communicate with all of them, building a strong network and maintaining professional relationships.
As mentioned before, don't start if you don't have the intention to continue. A well maintained blog is like a nice looking business card, an abandoned blog is like an ugly advertisement.
The return on investment, metrics and values of corporate blogging are illustrated in the image below: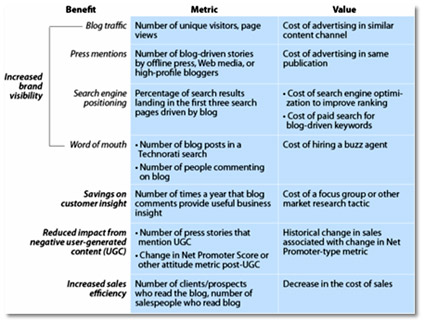 You can find some examples of successful corporate blogging on http://www.thenewpr.com/wiki/pmwiki.php?pagename=Resources.CorporateBlogsList.
<< Previous: THE POSSIBILITIES