Video and Photo Sharing Websites offer the possibility to share and spread your company values, events, products and services through videos, photos, logos or commercials. Whether they are funny, serious or controversial, it doesn't even matter.
Besides offering all those things to the online community, Sharing Webites also make it easy to have others reuse your content and spread it through their own blogs, websites and social networking pages. So others can use and plug your content.
Another benefit of Sharing Websites is that you don't need to have the bandwidth and your system doesn't host the files. So technically there are only benefits and most importantly it's totally free, you just have to accept your content is on a website you don't control yourself.
Almost every Sharing Website also integrates the social aspect, users like to connect to each other and comment or reply on other people's content. In other words building a community around your company is a possibility.
So make sure pictures of your products, how-to-use videos and demonstrations of your products' benefits can be found on those sites. Maybe the view count won't reach the millions, but if a couple of thousand people saw every picture or video you shared, your presence is a success because those viewers are exactly your target audience.
A great example of a company that successfully used YouTube and other Social Sharing Websites to promote its product is Blendtec. Before its "Will It Blend" campaign Blendtec was a faceless company that manufactured blenders. The moment Blendtec started to post its extreme blending tests (golf sticks, iPods, a baseball) on YouTube the company gradually became a phenomenon and a worldwide well known brand in blenders. The cumulated number Blendtec video views has exceeded the 100 million. The Blendtec YouTube video channel can be found here and Blendtec has an astonishing number of more than 80.000 subscribers to their videos on YouTube alone.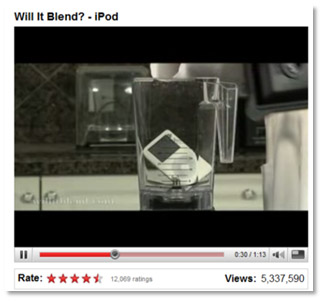 Examples of Video Sharing Websites:
Examples of Photo Sharing Websites:
Next: OTHER SOCIAL MEDIA MARKETING POSSIBILITIES >>