Viral Marketing (aka Buzz Marketing and Word-of-mouth Marketing) is a real art. Many have tried, only a few have succeeded.
Viral Marketing uses existing social networks to increase the awareness of a brand or company or to enhance positive associations in a way that can be compared to a viral epidemic. With a successful viral campaign you can reach a large number of people quickly and cheaply. The ROI of a viral campaign can be enormous, but more than 90% of all seeded viral campaigns fail.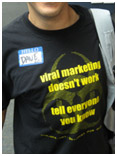 Viral Marketing is mostly used to reach more difficult segments and target groups. Most of the time a viral presents itself as funny or interesting information that people are willing to share with their friends, mostly funny or controversial movies or images, flash games or just plain text. This information is shared through email, social networking sites, social bookmarking sites, forums, and so on.
The best Viral Marketing campaigns in the past were those where it wasn't clear there was a company behind it. Part of the strength of a viral lies in the discovery of the commercial message.
Unlike other advertising channels, once seeded a viral campaign cannot be stopped. The mechanism that makes Viral Marketing a strong communication channel is also its greatest weakness. A company has to let go its commercial message after the launch, so negative publicity can become a reality if the viral isn't received well.
One of the popular Viral Marketing creeds describes really well what it's all about:
"Viral Marketing doesn't work. Tell everyone you know!"
The Dutch website Marketingfacts.nl publishes a weekly top 10 of what is hot material in Viral Marketing.