As you all might know, Google Search doesn't like (or even allows) automated requests and queries. If you run a script or program that handles too much requests too fast, Google will stop serving results. You might also know that when doing SEO (Search Engine Optimization) for a website, it sometimes is necessary to check the results of your efforts. In other words: sending automated requests to Google sometimes is needed.

Google doesn't offer an API (booh!), so finding out how a website ranks for a certain keyword implies requesting the complete result pages (SERP's) and filtering out the information you need. And that's against the Google Terms Of Service:
You agree not to access (or attempt to access) any of the Services by any means other than through the interface that is provided by Google, unless you have been specifically allowed to do so in a separate agreement with Google. You specifically agree not to access (or attempt to access) any of the Services through any automated means (including use of scripts or web crawlers) and shall ensure that you comply with the instructions set out in any robots.txt file present on the Services.
If you do send too much request too fast, Google will stop serving you and you will get a 403 Forbidden error page:
We're sorry…

… but your query looks similar to automated requests from a computer virus or spyware application. To protect our users, we can't process your request right now.

We'll restore your access as quickly as possible, so try again soon. In the meantime, if you suspect that your computer or network has been infected, you might want to run a virus checker or spyware remover to make sure that your computer is free of viruses and other spurious software.

We apologize for the inconvenience, and hope we'll see you again on Google.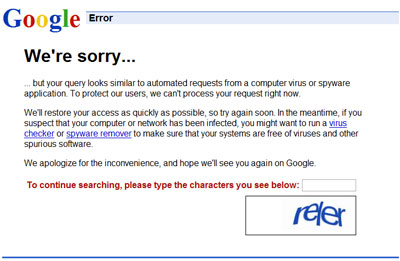 If you type in the characters, you can continue searching Google.
Just give us an API guys, it would make your and our life a lot easier…
Please ?