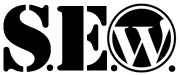 Fact 1: WordPress in the best and easiest blogging system in the world.
Fact 2: search engines like Google, Live and Yahoo! really like blogs.
The reason behind the success of blogs in the Search Engine Results Pages (SERP's) is that they really fit in the way search engines and their algorithms work today.
I'm going to show you how you can get your WordPress blog loved even more by Google and other search engines.
All of you involved in SEO (Search Engine Optimization) know that Google likes 2 things:
I know this is a generalisation, but you get the picture.
Now generally a blog scores high on both important factors:
you add new content to your blog on a regular basis, so lots of fresh content
your blogroll or references in your content link to other sites and blogs, so lots of links
Bottomline: a blog gives you a chance of getting noticed by the search engines and a reasonable chance of getting ranked in the SERP's.
But that's not enough… You can influence the ranking of your blog by using some of the features WordPress has to offer.
1. Choose or create a WordPress theme that produces really easy code.
The larger the ammount of content compared to the ammount of code, the better your blog will rank. You can choose from litterally thousands of (free) WordPress themes (take a look here or just try Google). Before installing a theme, take a look at the code it produces (Ctrl + U in Firefox, right mouse-click and view source in Internet Explorer). If it's really easy to find the content of the posts, it's a good theme. If you need some time to locate the real content in the code, it's probably not the theme you want. Once your theme is installed, it't time to go through the options WordPress offers (login to the admin panel and choose Options).
2. Attempt to notify any blogs linked to from the article.
Under Discussion options, there's the possibility to notify the blogs you link to in your posts. Activate it and other blogs will get noticed you linked to them. Most blogs even mention (a part of) your post in their comments. Although these links often carry a "nofollow" (the link doesn't count towards your incoming links, especially used by Google), your blog will get noticed by the search engines (and readers of the blog you link to).

3. Make your blog visible to the search engines.
Under the Privacy tab, you can make your blog visible to everyone, including search engines (like Google, Sphere, Technorati) and archivers

4. Use a nice URL-structure.
Under the Permalinks tab, you can choose the way your url's will look. It's only natural that an url like www.yourdomain.com/get-your-blog-noticed.html says more about your page than an url like www.yourdomain.com/?p=6 (the standard url for WordPress). So change your permalink. Several options are possible, and all of them are better than the standard one. You can choose the "Date and time based"-option, the "Numeric"-option or you can create your own Custom structure. I always use the custom structure using the postname (with or without .html added) sometimes combined with the post id or the date. Some good possibilities:
/%postname%/ (www.yourdomain.com/get-your-blog-noticed/)
/%postname%.html (www.yourdomain.com/get-your-blog-noticed.html)
/%category%/%postname%.html (www.yourdomain.com/seo/get-your-blog-noticed.html)
/%post_id%/%postname%/ (www.yourdomain.com/6/get-your-blog-noticed/)
/%year%/%monthnum/%day%/%postname%.html (www.yourdomain.com/2007/11/18/get-your-blog-noticed.html)
A lot of other combinations are possible, but these are the ones I prefer and that always seem to work. Be sure you have a writable .htaccess file in the root of you blog before saving the permalink structure.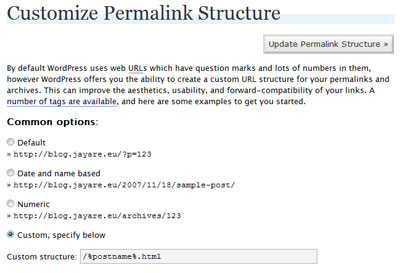 5. Use keywords in your title.
Using keywords you would like to rank for in Google in your posttitle will help you rank for those keywords. Since you use a good permalink structure, those keywords will also be mentioned in the url of the page.
6. Use titles for your links and your images.
When you upload a picture in WordPress or add a link to your post, you have the option to add an image title or link title. Do it! Might help you score for certain keywords.
7. Install the SEO title tag plugin.
The SEO title tag plugin gives you the freedom to choose the titles of every page on your blog (so your posttitle and pagetitle can be different). Use different variations of important keywords in your pagetitle and posttitle. Under the tab Manage > Title Tags you can change all pagetitles.
Download the SEO title tag plugin here.

I hope this post helps you to optimize your WordPress blog so the search engines feel welcome. In a next post I'm going to show you how to get your blog indexed by the search engines and how to get your new blogposts noticed.
Feel free to add extra tips and feel free to comment.